We do everything with our core values of experience, hard work, and trust.
UCC Care-giver is a true friend, guide and philosopher.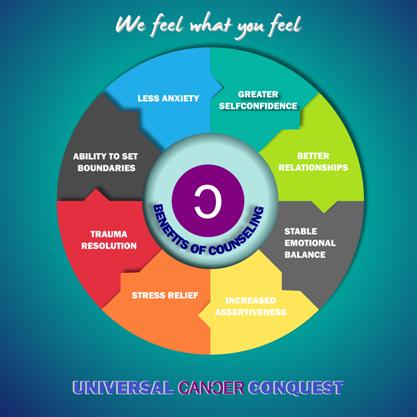 Universal Cancer Conquest - Benefits
A true friend, guide and philosopher.
With the confirmation of your cancer, a journey of recovery through various levels and rounds of collaborative discussions (Joint Clinic), planning (Customised plan), scheduling (tests and checkups) and follow-up treatments (Comfort & care) begins. The multi-dimensional, multi-tasking, multi-modal, multi-locational or multi-directional needs will be simply addressed by connecting with the UCC care giver. The learnings from various cancer patients and their affected families, helped to find the necessary pain points for the patient and the near & dear ones and guided the vision of Universal Cancer Conquest team. The cumulative experience, knowledge and curiosity makes every UCC team member a worthy friend for any and everyone effected by cancer. UCC Care-giver : A true friend, a knowing guide, a knowledgeable philospher!
For your customised needs in Care, Comfort, Empathy, Treatment! Questions? Doubts? Worries? Support? Just talk to or call UCC-Caregiver. Really! it is as simple as that.
Patient support is the central focus of everything UCC does. While ensuring you are in safe clinical hands, UCC also ensures the treatment and care plan as prescribed is adhered to. Our counselors proactivly guide and assist where necessary. Our priorities are to equip all concerned with the practical and emotional support they need to live a full life and to engage with the challenges that life presents, including the stresses arising from a cancer diagnosis.
Prime Benefits:
---
Save Time : Free your time and invest it to attend routine chores of life and other esential family needs. The hassles of running around finding solutions, infrastructure, locations, logistics is no longer needed. Emergency or planned or casual! Just a call, a discussion and a seeking the support from a UCC caregiver is the just answer.
Save Energy : No more hassles of running about to find answers, confusing solutions, conflicting opinions, scheduling appointments, logistical planning for tests, treatments, follow-ups. The answers, resources and guidance are just just a 'call' away. A single point of contact for almost every need of the patient. Quality time is essential. Live a full life, worthy of yourself.
Save Money : The investment for the recovery of the patient after a life-threating ailment is indeed invaluable. However it is prudent to evaluate costs and expenses, without compromising on the patient's, and the family's essential needs.
UCC is your single point contact for all and every need of cancer treatment & care.
Please don't worry. Call UCC Now!
Single Point Contact
Joint Clinic/Tumour Board
Precise/Laser sharp treatment plan
360&deg Patient Centric Care
Specialised Counselors
A journey from Diagnosis to Rehab
Comprehensive & Proactive Support
We feel what you feel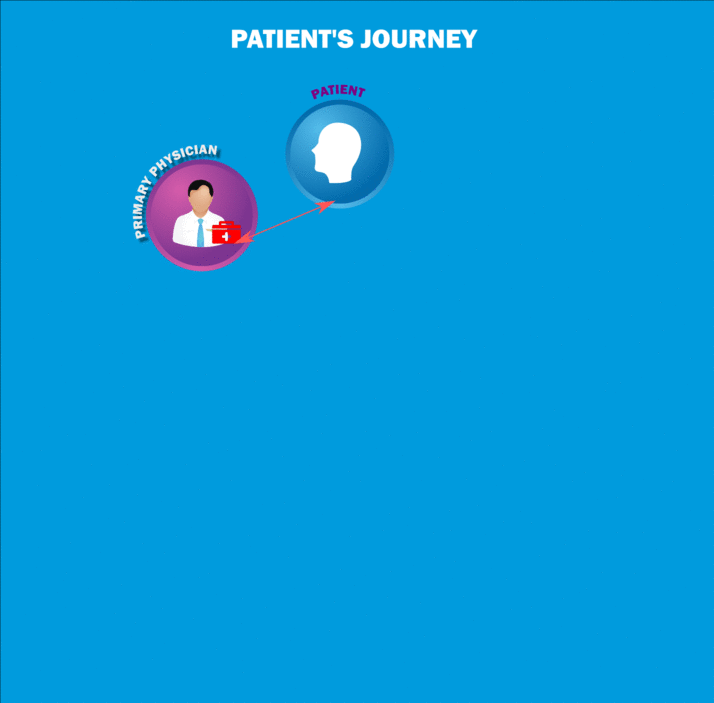 A patient's hassled journey
Universal Cancer Conquest - Advantages
Know more about the features, services of Universal Cancer Conquest and learn about the UCC Model of Cancer-care
---
UCC Centers and Offices
Universal Cancer Conquest is a conglomerate of teams working together to provide the create the best line of treatment for your type of cancer, within your comfort zone; personally, socially and financially.
Hospitals, Doctors, Clinics, Other Ancilliary support personnel, Medical equipment, Resources, transport, guidance, counselling and more, ready for your service, always!